VALENTINO GEN2
Classic street lamp with cutting-edge technology
Description
With a design inspired by the historic gas lanterns, the VALENTINO GEN2 is a timeless addition for urban environments. It offers an opportunity for cities to preserve their heritage while providing a source of well-being and safety in public spaces. Beneath its classic and timeless design, the VALENTINO GEN2 luminaire incorporates cutting-edge LED and control technologies.
This heritage luminaire is bound to enhance the visual experience in urban environments. Its stylish design creates a sense of place, with a distinctive character both by day and at night, producing a sense of pride amongst residents. More than an elegant luminaire, VALENTINO GEN2 is the ideal lighting tool to create attractive yet sustainable living spaces that supports all types of urban activity.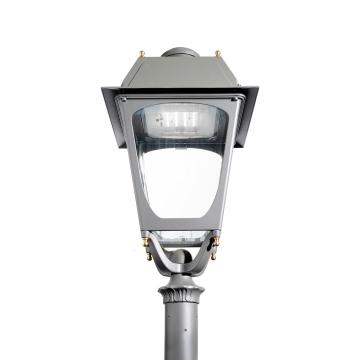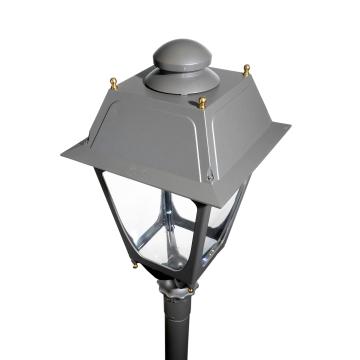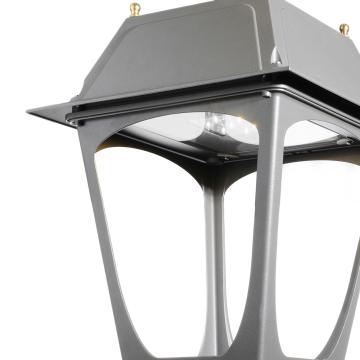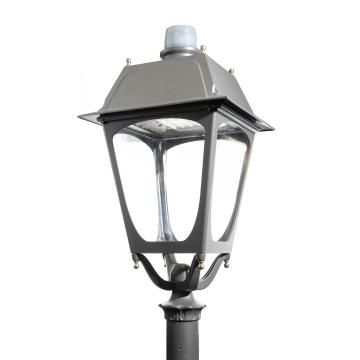 Carrying on history

The traditional yet elegant design of the VALENTINO GEN2 street light plays an important decorative role by day and at night, integrating perfectly into urban landscapes, enhancing heritage sites by preserving their iconic identity, and nurturing the pride of citizens.

Lower light pollution

With no upward flux, VALENTINO GEN2 reduces light pollution. The flat glass version has an ULOR 0% and is dark-sky compliant. The efficiency of its photometric engines enables low-height installation and thus prevent light from intruding into inhabited buildings.

Classic design, smart technology

More than a stylish lantern, VALENTINO GEN2 is a connected-ready lighting solution available with various control and sensor options to manage your lighting networks efficiently and responsibly. Capture your data and adjust the light to the needs of any location, event and situation creating the lighting best adapted to your city's needs while significantly minimising the energy consumption of your lighting installation.

More sustainable street lighitng

The most efficient luminaire means nothing if it cannot last over time. VALENTINO GEN2 has a robust design, developed for a long life-span. Its high tightness and impact levels combined with the LED technology guarantee the durability of your installation. Its recyclable materials ensure responsible use of natural resources.
More than a classic lantern
The creation of ambiance, as well as a sense of belonging, is essential in the life of a city. It draws citizens together, attracts tourists and boosts local commercial activities. VALENTINO GEN2 offers the ideal lighting solution for creating welcoming and charming spaces with character. Don't be fooled by its appearance - VALENTINO GEN2 is a connected-ready luminaire that is also equipped with the latest LED technologies, offering a real solution for your smart city projects while always guaranteeing the most optimised energy consumption. Combining classic with technological innovation has never been so convenient as with VALENTINO GEN2.
Get your starlit sky back
The International Dark-Sky Association (IDA) is the recognised authority on light pollution. It provides tools, ressources, and a certification program for industries and companies willing to reduce light pollution. At Schréder, we are convinced that a more responsible lighting has the potential to preserve the environment. We are fully committed to reducing light pollution by joining the IDA's certification program. Our approved range of luminaires complies with the IDA's program of approval to deliver a light that protects the environment in all respects. Get your starlit sky back with the VALENTINO GEN2 lighting solution.
Characteristics
General Information

Recommanded installation height (m)

Meets IDA Dark Sky requirements when fitted with a clear protector
Electrical information
Performance

Luminaire output flux (lm)

Luminaire efficacy - up to (lm/W)
Optical information

Colour rendering index (CRI)

Upward Light Output Ratio (ULOR)

ULR

ULOR 0%: only for flat glass version.

ULOR may be different according to the configuration. Please consult us.

ULR may be different according to the configuration. Please consult us.

Meets IDA Dark Sky requirements when fitted with LEDs of 3000K or less.
Housing and finish

Optic

Tightness level

Vibration test

Access for maintenance
Lifetime

All configurations

Lifetime may be different according to the size/configurations. Please consult us.
Dimension and mounting

Dimensions and mounting

AxBxC (mm | inch)

400x667x400 | 15.7x26.3x15.7

Mounting possibilities

Post-top slip-over – Ø60mm
Control systems
Control options for VALENTINO GEN2
The VALENTINO GEN2 lantern offers the following dimming/control options:
• 1-10V
• DALI
• Bi-power
• Custom dimming profile
• AMPDIM
• Remote management

As an option, this luminaire can be equipped with a NEMA 7-pin or a Zhaga socket.
Control link
Installation and Maintenance
VALENTINO GEN2 is compatible with post-top mounting on a Ø60mm or ¾'' gas spigot. Its refined fixation piece perfectly connects the luminaire to the post while providing an additional touch of elegance.
VALENTINO GEN2 is compatible with suspended mounting on a ¾'' gas fixation. Two decorative caps are added to the bottom of the lantern to perfect its design.
Optional toolless opening
As an option, VALENTINO GEN2 can benefit from a toolless opening system using hand screws. While open, the cover stays in place thanks to a retaining hinge, preventing it from falling shut and easing maintenance and connection activities.
Poles and Brackets
Schréder is known for providing complete lighting solutions for its partners, including both standard and bespoke options. This street LED luminaire is available with multiple suspended and post-top wall brackets, in addition to poles from 3.5m to 5m.
Accessories and versions
The flat glass version of the VALENTINO GEN2 is dark-sky compliant (ULOR 0%).
This refined street lamp is available with a clear protector.
VALENTINO GEN2 is available with a structured protector.