INOA LED
The street light that provides elegance, efficiency, comfort and a pleasant atmosphere
Description
No matter what configuration you choose, the discreet elegance of the INOA LED streetlight makes it an ideal choice for creating a pleasant atmosphere and enhancing any landscape.
It offers several light distributions to meet the requirements for lighting parks and squares as well as urban and residential areas.
INOA LED offers efficient lighting and visual comfort for pedestrians, cyclists and drivers.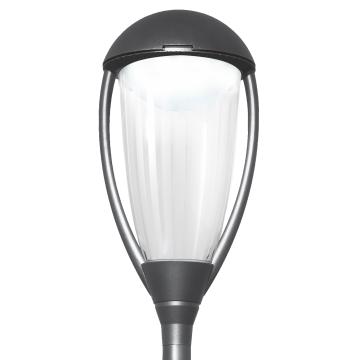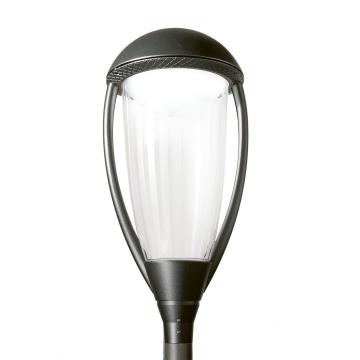 Enhance your city

Thanks to its stylish design, INOA LED is the perfect solution for reviving streets, pedestrian areas and parks in your town or city. Its smooth body and various options bring a touch of elegance while boosting the nocturnal ambiance of cities at night.

Efficiency and comfort

INOA LED is a streetlight created to bring high visual comfort to drivers, cyclists, and pedestrians in urban areas. By using state-of-the-art LED technology, this post-top luminaire provides efficient lighting that guides people in urban environments and creates a sense of security.
INOA LED can be equipped with a sensor to trigger various lighting levels that meet the exact needs of users in a dedicated place and at a specific time.

Circular economy friendly

The INOA LED luminaire is composed of high-quality materials.
The base section, bracket arms, top cover and cover plug are made of die-cast aluminium.
To offer high impact resistance, polycarbonate and acrylic were chosen for the protectors and diffusors. These materials are easy to recycle.
As both the LED unit and the electronic assembly can be replaced to extend the luminaire's service life, the INOA LED luminaire supports the principles of a circular economy.

Easy installation

INOA LED is supplied pre-wired to facilitate installation. The luminaire includes fixation designed for post-top mounting onto a Ø60mm spigot.
Characteristics
General Information

Recommanded installation height (m)

Compliance
Electrical information
Performance

Luminaire output flux (lm)

Luminaire efficacy - up to (lm/W)
Optical information
Housing and finish
Dimension and mounting

Dimensions and mounting

AxBxC (mm | inch)

431x903x431 | 17.0x35.6x17.0

Mounting possibilities

Side-entry slip-over – Ø60mm
Control systems
Control options for INOA LED
INOA LED is available with the following dimming/control options:
• Bi-power
• Custom dimming profile
• 1-10V
• DALI
• AmpDim
• Remote management
Control link
Installation and Maintenance
INOA LED is delivered pre-wired for mounting on a Ø60mm spigot by tightening six M6 screws.
The INOA LED luminaire has been designed to fulfil the FutureProof concept. Both the LED unit and the electronic assembly can be replaced to take advantage of any future technological developments.
Poles and Brackets
INOA LED can be mounted on three different types of lighting column. A painted aluminium wall bracket can also ensure aesthetic consistency in areas where columns cannot be installed.
Accessories and versions
To adapt the lighting to any kind of urban environments, INOA LED is available in several versions: with flat glass, with a diffuser, with a deep striated protector, and with a small or a large canopy. These features can be combined to create the perfect solution for your environment.