VALINTA CURVE
Fluid, organic design with cutting-edge lighting technologies
Description
With the right light, any urban space can reveal its potential to connect people and create a sense of well-being and safety. With this strong belief in mind, we created the VALINTA platform and three ranges with distinctive aesthetics (VALINTA CURVE, VALINTA GROOVE and VALINTA SCOPE). Designed as both luminaires for urban lighting and floodlights for architectural enhancement, the VALINTAs provide aesthetic and technical consistency for all types of application in the city.
Through various designs, sizes, lumen packages, light distributions and LED types (white or coloured), the VALINTA platform unleashes exceptional potential for lighting designers, landscape architects and urban planners. From basic lighting to peak illumination, VALINTA is their ally in revealing and magnifying every detail of the city.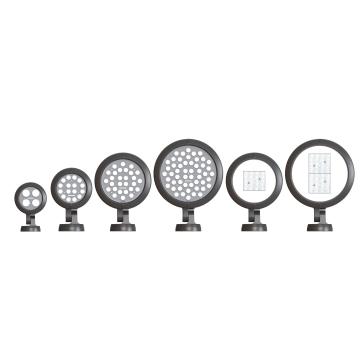 Beautify your city

VALINTA CURVE has been designed to magnify every detail of your city and reveal its uniqueness. The pure and organic aesthetics by designer Michel Tortel blend perfectly into your urban landscape, adding a touch of refinement. Thanks to its versatility and advanced lighting technologies, VALINTA CURVE is the ideal tool to help lighting designers and architects enhance streets and monuments.

Consistent accuracy

VALINTA CURVE offers a complete lighting solution. The urban version provides perfect visibility and high efficiency for any urban application, while the floodlight version relies on a unique LED PCBA layout, inspired by stained glass windows. With various sizes, light distributions and LED types (white or colours), VALINTA CURVE offers accurate and consistent solutions for all types of urban lighting project.

Circular economy and sustainability

VALINTA CURVE follows the principle of the circular economy, aiming for responsible use of resources. With its highly recyclable materials (aluminium and glass), robust and future-proof design, VALINTA CURVE is a reliable, long-lasting and repairable outdoor lighting solution. In addition to high energy efficiency, the dynamic, dimming and light-on-demand features ensure that only the energy absolutely needed is consumed.

As easy as ABC

VALINTA CURVE comes with a unique system for straightforward mounting. The base is easily fixed onto a surface or a pole. Then the male part is inserted and secured by rotating the luminaire.
Pleasant, purposeful design
The clean and shapely design of VALINTA CURVE appeals with its neat appearance and its attention to detail while bringing a touch of modernity. Its simplicity and elegance make it an all-rounder luminaire and floodlight, capable of subtly blending into any urban environment, whether contemporary or heritage. Depending on the project, VALINTA CURVE can make itself invisible when needed or become a striking design element when required. A purposeful design for meaningful lighting that create meaningful moments for people in the city.
With VALINTA CURVE, lighting designers can express their creativity and make their vision a reality in the field. Working upfront with simulation tools, they can then finetune the lighting effect during installation on site with 360° settings. VALINTA CURVE not only enables precise settings on both the vertical and horizontal axes. The complete optical bloc can rotate in both directions to adjust the lighting beam precisely and set the final touch.
In addition to this outstanding range of adjustments possibilities, VALINTA CURVE is available with external accessories: a canon tip for increasing the focusing effect and a rotatable hood as a shield against intrusive lighting.
VALINTA CURVE ensures that you get the right light for all your projects.
Characteristics
General Information
Electrical information
Performance

Luminaire output flux (lm)

Luminaire efficacy - up to (lm/W)
Optical information
Housing and finish
Operating conditions
Dimension and mounting

Dimensions and mounting

AxBxC (mm | inch)

VALINTA CURVE MICRO : 100x162x160 | 3.9x6.4x6.3

VALINTA CURVE MINI : 195x296x216 | 7.7x11.7x8.5

VALINTA CURVE MIDI : 266x366x212 | 10.5x14.4x8.3

VALINTA CURVE MAXI : 325x430x201 | 12.8x16.9x7.9

Weight (kg | lbs)

VALINTA CURVE MICRO : 1.7 | 3.6

VALINTA CURVE MINI : 5.0-5.5 | 11.0-12.1

VALINTA CURVE MIDI : 7.4-7.5 | 16.3-16.5

VALINTA CURVE MAXI : 10.3-10.8 | 22.7-23.8
Control systems
VALINTA CURVE control options
VALINTA CURVE is available with the following control and dimming options:
• DALI
• Bi-power
• AmpDim
• Custom Dimming
• DMX-RDM
• Remote management

As an option, VALINTA CURVE can be equipped with a Zhaga socket.
Control link
Installation and Maintenance
VALINTA CURVE offers the ultimate lighting experience in the easiest way. It comes with a unique mounting system for fast and easy installation, on poles and surfaces, requiring only one person by eliminating any weight constraint.
Fix the spotlight base onto the pole or the surface, then insert the male part and secure it by simple rotation. Then, you can lock the position with grub screws.
VALINTA CURVE is completely orientable on site. Its tiltable bracket offers a wide range of settings in both axes to direct light precisely where it is needed. As an option, the optical block can be orientated on site over a range of +/- 90°.
Accessories and versions
As an option, VALINTA CURVE is available with a canon or a hood. The canon directs the light beam where it is needed to precisely highlight an architectural element or an object, while the hood creates more visual comfort and prevents intrusive lighting, especially in crowded places.