OMNIblast
Highly-efficient LED floodlight for sports and large area lighting
Description
OMNIblast is an indoor and outdoor high-power LED floodlight providing maximised energy and maintenance savings even in the harshest sports environments. Ideally suited for pitch lighting, this robust luminaire is compliant with international sports federation regulations. It is ideally suited for UHD/HD/4K broadcasting and super slow, flicker-free motion replays.
OMNIblast offers increased flexibility through its modular approach and option of adjusting the inclination angle. This powerful LED floodlight withstands high vibrations and ball impact. It is an ideal solution for lighting large areas, such as stadiums, indoor and outdoor arenas, airport aprons or industrial harbours.
With recyclable parts and high energy efficiency, OMNIblast enables you to minimise your carbon footprint. It benefits from various dimming options and ensures theatrical effects thanks to its entertainment mode with tunable white and RGB LEDs.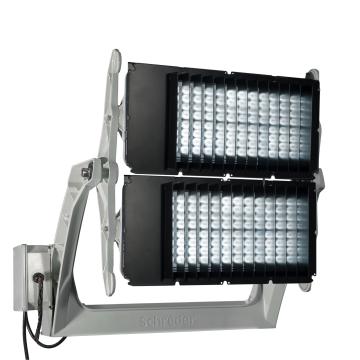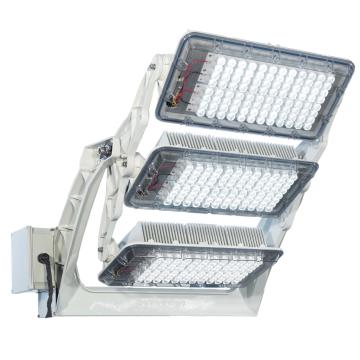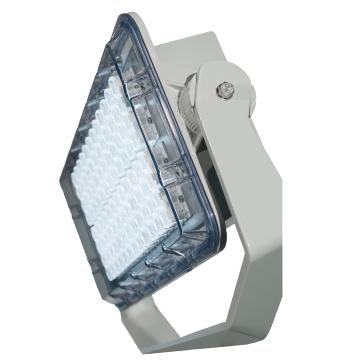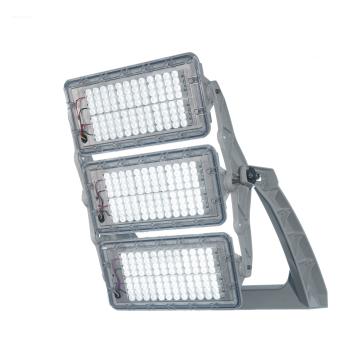 Modular for flexibility

OMNIblast is based on a modular concept of independent optical units. One, two or three modules can be mounted on the same bracket for the utmost versatility, providing light distributions and lumen packages perfectly adapted to the specifications of the area to be lit.

Comfort for sportswomen and sportsmen

Players benefit from the required lighting levels and uniformity with the highest visual comfort (very low glare), so that they only have to focus on giving their best performance. In indoor facilities, the low heat emitted from the lighting fixtures ensures a pleasant atmosphere.

Instant restrike

Compliant with the UL924 safety standard, OMNIblast does not have to cope with the instant restrike and on/off issues that traditional lighting faces.

Flicker-free

OMNIblast guarantees perfect glare control, a high colour rendering index (CRI) and television lighting consistency index (TLCI), as well as flicker-free lighting to ensure an optimal experience for fans in the venue and at home. Thanks to its high-quality electronics, OMNIblast enables HD/4K super slow-motion replays.
Take advantage of 3 powerful photometrical concepts
OMNIblast offers numerous lighting distribution options through 3 different concepts, combining the highest performance and the greatest comfort.
Based on collimators, the BlastFlex™ photometric engines provide narrow, medium, wide and asymmetric distribution to deliver the high intensity required for critical areas. LensoFlex®3 takes advantage of the renowned expertise of Schréder in road lighting to provide the highest efficiency in sports applications. ReFlexo™ uses reflectors to deliver the most asymmetrical distributions (20° to 60°) with superior comfort for players and spectators.
Transform a sports event into a real show
OMNIblast is available with warm, neutral or cool white LEDs to meet the standards of all major sports leagues. Modules with tunable white or RGB LEDs are also available for fan engagement and theatrical effects.
OMNIblast can be controlled by the DMX-RDM protocol that enables each fixture to be switched on and off individually or synchronised in light shows, to create dynamic light shows before, during and after matches. It offers advanced possibilities for creating interactive scenarios with external sensors, to entertain the audience with special lighting effects such as light waves, strobe lighting or flashing light and synchronised music.
The floodlight can also be dimmed to adapt to other events taking place in the stadium, such as training. This flexibility enables the management to use the stadium for non-sporting events (such as concerts) and generate additional revenue.
Characteristics
General Information

Recommanded installation height (m)

Compliance
Electrical information

Electrical class

Nominal voltage

Control option(s)

Associated control system(s)
Performance

Luminaire output flux (lm)

Luminaire efficacy - up to (lm/W)
Optical information

Colour rendering index (CRI)
Housing and finish
Lifetime
Operating conditions
Dimension and mounting

Dimensions and mounting

AxBxC (mm | inch)

OMNIBLAST GEN2 1 - 595x188x250 | 23.4x7.4x9.8

OMNIBLAST GEN2 2 - 700x630x520 | 27.6x24.8x20.5

OMNIBLAST GEN2 3 - 700x630x790 | 27.6x24.8x31.1

Weight (kg | lbs)

OMNIBLAST GEN2 1 - 12.0 | 26.4

OMNIBLAST GEN2 2 - 28.0 | 61.6

OMNIBLAST GEN2 3 - 35.0 | 77.0

Mounting possibilities

Bracket enabling adjustable inclination
Control systems
Control options for OMNIblast
OMNIblast offers the following control/dimming options:
• 1 - 10V
• DMX-RDM
DMX-RDM is the standard protocol in the entertainment industry. It allows bi-directional communication between a lighting fixture and a controller over a standard DMX line. This protocol eases commissioning, status monitoring and control of the lighting fixture.
Control link
Installation and Maintenance
OMNIblast can be mounted using a steel U bracket (1 module) or an aluminium bracket (2 or 3 modules). It can also be installed using a pendant attachment.
Each module can be tilted individually up to 40° (+20°/-20°). For easy installation, connections to the gear box can be made using quick connectors. A junction box enables the installer to use only one cable between the fixture and the remote gear box. The cabling between the fixture and the junction box is factory pre-assembled.
Accessories and versions
Accessories for OMNIblast
Glare control is essential in sports or architectural lighting. Easy add-on accessories such as vertical/horizontal louvres and hoods have been designed to provide the utmost well-being and to direct the light only where it is needed.